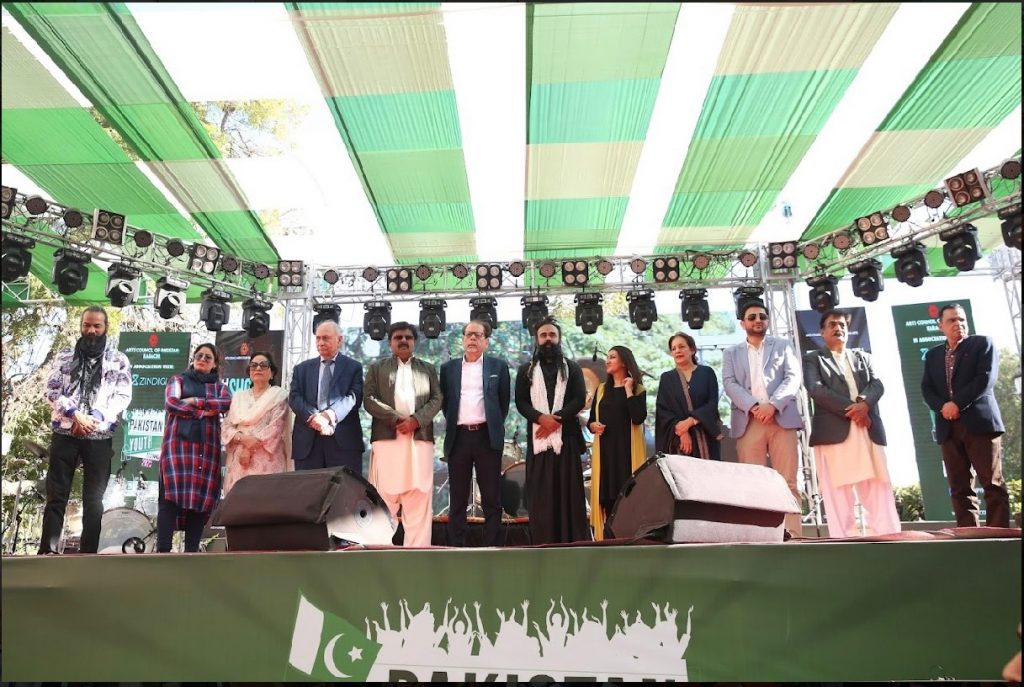 [Karachi] Zindigi, powered by JS Bank, proudly sponsored the Seven-Day Pakistan Youth Festival hosted by The Art Council of Pakistan. The festival aimed to showcase the artistic talent and professionalism of the country's youth. Zindigi and the Arts Council of Pakistan share a common goal of creating a brighter future for the Youth of Pakistan.
The festival was a testament to the strength of the youth and their ability to impact the world positively through their creative expression. The Art Council of Pakistan will continue to provide a platform for young artists to share their voices and positively impact society.
Noman Azhar, Chief Officer Zindigi, stated, "Zindigi, driven by a focus on youth empowerment and change, is dedicated to supporting the next generation's success. As a youth-oriented brand, Zindigi is taking proactive steps to help young people achieve their goals and was happy to partner with the Arts Council to express their creativity through art."
Waqas Anis, Chief Digital Officer JS Bank, attended the event on behalf of CO Zindigi and appreciated the artistic blend and display at events.
The closing ceremony, a musical concert featuring prominent musicians including Ali Azmat, Sahir Ali Bagga, Ahmed Jahanzeb, Natasha Baig, Wahab Bugti, Ahsan Bari, Arman Rahim, and Afaq Adnan, was a spectacular finale to the event. Different Art competitions and two special competitions of painting and photography were also held to further explore the talents of the country's youth.
—End—
About Zindigi
Zindigi powered by JS Bank is a digital banking initiative targeted towards Gen Z and millennials, who value their independence and want to control and operate things their way. Zindigi is the first of its-kind customizable mobile app with an ethos of giving complete control of the digital bank to customers and the look & feel for their app. It offers Gen Z and millennials savings and investment products. The fintech goes by with the slogan "Simple Karo" reflecting their objective of making the consumers' lives simple. It is the only Digital banking experience of Pakistan offering both, a full fledge account to be opened digitally and a master debit card that can be used both internationally and locally. For more details visit, www.zindigi.com
About JS Bank
JS Bank is amongst the fastest-growing Banks in Pakistan, with both a domestic and an international presence. The Bank is a leader in the SME space and has a substantial footprint in Digital Banking and Consumer Loans. JS Bank has been recognized on multiple international and national forums, including the prestigious Asia Money, Asian Banking, Finance, DIGI, and Pakistan Banking Awards. JS Bank is part of JS Group, one of Pakistan's most diversified and progressive financial services groups. For more details visit, www.jsbl.com
About Arts Council of Pakistan
The Arts Council of Pakistan Karachi is arguably the finest non-profit organization in the country today for Fine Arts and Performing Arts. With state-of-the-art facilities made available to all segments of society, Arts Council aims to promote peace and artistic professionalism through its various in-house fine arts, theater, dance and music academies, literary conferences, artistic endeavors, and progressive events and competitive talent showcases.
POC Details
Name: Wahaj Hashmi
Email: [email protected]