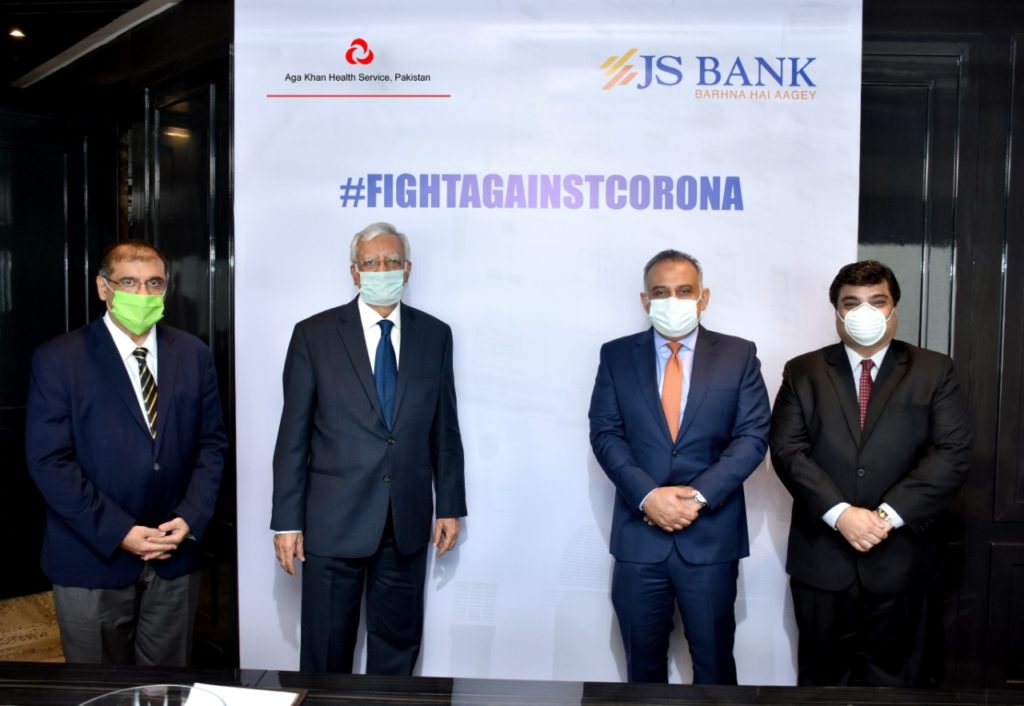 Karachi, 27th April 2020: In its effort to respond to the COVID-19 pandemic and build capacity in the national healthcare system, JS Bank and its partners today donated Rs. 10 Million to the Aga Khan Health Service, Pakistan. In addition, the Bank donated another Rs. 7.35 Million to Indus Hospital for Personal Protective Equipment (PPE).
The donation was made under the Rs 110 Million fund the Bank has deployed with its partners to counter the impact of the Coronavirus (COVID-19) in Pakistan. Addressing immediate and long-term challenges, the fund's three-tiered strategy revolves around immediate relief through provision of rations, provision of Personal Protective Equipment (PPE) to medical and other frontline institutions, and medical and technological Research and Development.
The support package will go towards virus testing, medical services to affected individuals and procurement of Personal Protective Equipment (PPE) kits.
'As a responsible national company, JS Bank is committed to supporting the leaders in the fight against COVID-19.' said Basir Shamsie, President & CEO, JS Bank Limited upon extending the contribution. 'Aga Khan Health Service, Pakistan has been at the forefront of this effort across Pakistan and we thank the entire medical fraternity for their efforts and sacrifices on behalf of the people of Pakistan.'
Abdul Karim Ajanee, Chairman, Aga Khan Health Service, Pakistan acknowledged the support: "Fighting COVID-19 requires a collective and sustained effort. AKHS is partnering with corporates, government, and civil society institutions to provide access to quality health care particularly in vulnerable and remote communities. The support extended by JS Bank and its partners will help our efforts to mitigate the impact of the pandemic."
Committed towards its role as a catalyst towards the progress and prosperity of Pakistan, JS Bank hopes to continue this journey of impact and will support Pakistan's endeavor to respond to this pandemic during these trying times.
—End—
About JS Bank:
JS Bank is one of the fastest growing banks in Pakistan, with 360 branches in 180 cities including one international branch. The Bank is a leader in the digital banking space and distribution of insurance solutions. JS Bank has been recognized on multiple international and national forums including the prestigious AsiaMoney, Asian Banking and Finance, DIGI and Pakistan Banking Awards. The Bank is part of JS Group, one of Pakistan's most diversified and progressive financial services groups. For more information, please visit http://www.jsbl.com
About AKHS,P:
Aga Khan Health Service, Pakistan (AKHS,P), an ISO 9001:2015 certified organisation, provides affordable primary health care services. AKHS,P provides equitable, service oriented, innovative and community-based health services through four strategic objectives: supporting government health policies and plans; supporting health needs of catchment and target populations; increasing sustainability of operations; and contributing to global standards in health and health care. For more information visit https://www.akdn.org/our-agencies/aga-khan-health-services.